The Truth About Why He Won't Propose And Keeps Pulling Away…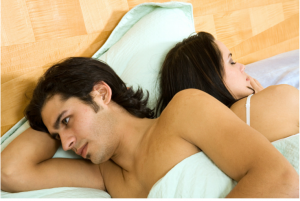 Do you feel that your man keeps pulling away… despite your best efforts to get closer?
Does he seem more interested in the idea of "friends with benefits" rather than ever becoming…husband and wife?
Worried that your wasting your best dating years on a guy that has no interest in sticking around?
There's nothing as frustrating as being stuck in a relationship that seems to be going nowhere.
You've had "the talk" a number of times, and he swears that he loves you…but he's just not ready for anything more.
While it might feel like your putting in all this time and effort into a dead-end relationship, don't decide to write him off as another commitment phobe just yet!
Here's something you need to know…
Thanks to all the false information spread in the media…there's a big myth women are programmed into believing, and it's what's keeping you from enjoying any real commitment from your man.
The myth is if you simply do everything possible to make a man love you…his natural reaction will be to want to move the relationship forward and tie the knot at some point.
And if he doesn't…well…then he must just be leading you on and doesn't truly love you after all.
But all this couldn't be further from the truth!
It doesn't matter if you're a great cook, rock star in the bedroom, and are as fit as a magazine cover model. These types of things are not what's necessary to make him want to commit on a deeper level!
So what DOES need to happen in order to motivate a man to move the relationship forward?
Before I answer that, take a step back for a moment and think about how your man presented himself to you the first time you met.
Men all over the world are going to label me as a "traitor to the male species" for revealing this, but here it is…
When a man meets a woman he's interested in, his natural instinct is to do everything he can to impress you.
He may even stretch the truth a bit. For example, exaggerating about his financial success or education.
Think of this as the shiny knight's armor he puts on in in front of others.
While at first he'll be happy that he was able to impress you with his attractive armor, what he really wants is to be loved for the "real him".
This is one of the two "Masculine Hero Avatar Principles". T-Dub Jackson teaches women.
What he's doing is setting up psychological "Man Traps", and if you don't react to them in the correct way… it'll cause him to push back from any efforts you make to develop the relationship further.
That's where things can get tricky…
Luckily, you don't have to try and figure it out on your own.
After several years of combined relationship experience, Jonathan Green (Author of Girlfriend In a Week) and TW "T Dub" Jackson (Author of The Magic Of Making Up) have joined forces to develop a step-by-step blueprint designed to empower women with the knowledge to move any man from "Hello" to "I do" in the shortest time possible.
Here's just a few of the things covered:
[black_tick_list width="100%"]
The Secret to Keeping Your Partner Happy and Faithful.
How to Win any Man's Total Devotion and Commitment
The Key to Sparking Up Intimacy and Maintaining Passion in any Long-term Relationship.
Why Men Cheat and How to Make Sure Your Man Never Does.
[/black_tick_list]Unlike other relationship experts providing too many shallow "magazine and tabloid type answers" that get you nowhere, the information Jonathan and T Dub reveal is centered around triggering deep psychological responses in your man…
Just like the "Masculine Hero Avatar Principle" discussed earlier in this article, Girl Gets Ring reveals additional techniques that'll short circuit commitment phobia…and cause him to finally fully commit to you.
Before you know it, he'll be down on one knee in front of you with ring in hand!
Not sure if Girl Gets Ring can help your relationship?
Proof is in the number of relationships Jonathan and T Dub have already been able to affect.
Jonathan Green has reached out to well over 35,000 women around the world…and T Dub Jackson has helped over 100,000 couples in over 77 countries move their relationship to the next level.
Can you really think of a more-qualified team of guys to help conquer your man's resistance to marriage?
Girl Gets Ring first launched in 2012. Ever since then thousands of women have finally been able to overcome their man's resistance to commitment, and enjoy the marriage they always dreamed of.
Three years later, Jonathan and T-Dub still remain one of the most influential authors on the topic of dating and relationships.
Now if you've decided that you've had enough of being stuck in a dead-end relationship, and want the full scoop on how to get your man's complete devotion…
Click here to watch a FREE Video and discover the fastest path to getting him to FINALLY "pop the question".